PLOT (New PERFORMANCE)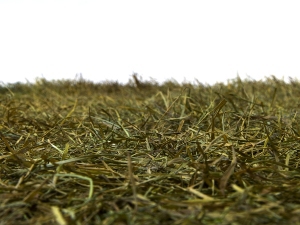 Plot
a performance by Eames Armstrong, J.J. McCracken and Ian McDermott
featuring Marc Blackwood and Sy.Newt McCracken
Thursday, May 16
PERFORMANCE: AFTERMATH
Second Forum on performance art, curated by Laura Roulet
In Conjuction with Wilmer Wilson IV: The Forever Aftermath
---
GREEN ACRES book release party & book signing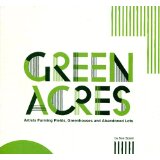 Plus: A Public Discussion regarding Artist Initiatives that Impact their World
moderated by Green Acres curator/author Sue Spaid
Panelists= artists J.J. McCracken and Mark Cooley, and book designer Kristian Bjørnard
Friday, January 18, 2013, 7 pm
Red Emma's Bookstore Coffeehouse, 800 St. Paul Street, Baltimore www.redemmas.org
The Green Acres exhibition closes this month at the Contemporary Art Center in Cincinnati and prepares to head to Washington, D.C. next, coming summer 2013...
---
THE HUNTRESS, a new performance at (e)merge 2012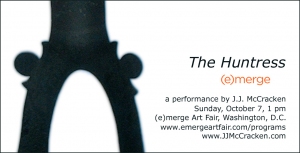 The Huntress, a new performance at the (e)mege Art Fair
in the Capitol Skyline Hotel in Washington, D.C.
October 4-7, 2012

A new solo performance debuts at the fair on
Sunday, October 7 at 1 pm
Built of details mined from local Washington, D.C. history, a sketch of a character emerges through performative gesture. Shifting ideas of civic servitude intermix with the residue of a wider history of free speech. The Huntress constructs a portrait of a woman punished for voicing political opinion in the Capitol Hill neighborhood less than two centuries ago.
duration on the performance stage: 1 hour
(e)merge Art Fair
Capitol Skyline Hotel
10 I (Eye) Street SW
Washington, D.C. 20024
Admission fees and info at
---
A CONTEMPORARY RESPONSE TO ANCIENT IRANIAN CERAMICS at the Smithsonian's Freer Gallery
J.J. McCracken: A Contemporary Response to Ancient Iranian Ceramics
a public discussion for the Smithsonian Institution,
at the Freer & Sackler Galleries
September 30, 2012 at 2 pm in the Freer Gallery Conference Room
As part of Smithsonian's Contemporary Voices series, Mt. Rainier, MD/Red Dirt Studio artist J.J. McCracken and Smithsonian Near East Curator Alex Nagle discuss the weighty resonance of historic artifacts and their influence on a contemporary artist's practice.
---
GREEN ACRES at the CAC, Cincinnati
Green Acres opening this month at the
Contemporary Art Center, Cincinnati Ohio
September 22, 2012-January 20, 2013
A group exhibition that puts into context the nearly 40 year phenomena of farming as art, curated by Sue Spaid with support awarded from the Tremaine Foundation. This show will travel, and Sue will be releasing her new, accompanying book on artists who employ farming practices this fall.
Kim Abeles, Agnes Denes, Dan Devine, Field Farming, Futurefarmers, Anya Gallaccio, Avital Geva, Lonnie Graham, Harrison Studio, Mei Ling Hom, Homemeadow Song, Patricia Johanson, Sakarin Krue-On, J.J. McCracken, Matthew Moore, N55, Permaganic Eco Garden, Mara Adamitz Scrupe, Bonnie Ora Sherk, Asa Sonjasdotter, Susan Leibovitz Steinman, Tatfoo Tan, & Shannon Young
---
EARTH & ALCHEMY at MassArt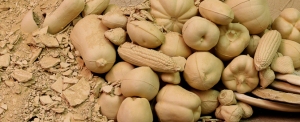 Earth & Alchemy opening this month at MassArt
in Boston, Massachusetts
September 24-November 24, 2012
A group exhibition that celebrates contemporary ceramic sculpture, exploring the depth and range of ceramic practice today from humor and materiality to social activism and the conceptual. Exhibition catalog available.
Yo Akiyama
,
Susannah Biondo-Gemmell
,
Syd Carpenter
,
Sam Chung
,
Mark Cooper
,
Laurent Craste
,
Bean Finneran
,
Klara Kristalova
,
Kate MacDowell
,
Warren Mather
,
Naoko Matsumoto
,
J.J. McCracken
,
Megumi Naitoh
,
Valéria Nascimento
,
Kamio Ogata
,
Elizabeth Orleans
,
Annabeth Rosen
,
Takayuki Sakiyama
,
Linda Swanson
,
Paul Swenbeck
,
Akio Takamori
,
Xavier Toubes
,
Eugene Von Bruenchenhein
,
Jason Walker
,
Kurt Weiser
---
---
RENTING THE RAIN at Watershed in Newcastle, Maine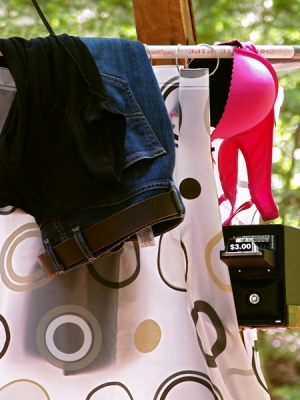 J.J. McCracken, Margaret Boozer &
Erwin Timmers collaborate
Renting the Rain
a coin-operated shower fed by a rainwater catchment system, built in response to Maine's water wars: Maine residents concerned about the future of local resources battle Nestle Waters North America/Poland Spring bottled water
Watershed Center for Ceramic Arts
Newcastle, Maine
Summer 2012
...
Watershed's 25th Year Anniversary Symposium
Wednesday, July 11-Saturday, July 14, 2012
(only excellent Maine well water will be served during the symposium!)
Friday, July 13 from 10:15-11:45 am
Panel: Artists in Culture
Rob Forbes (Moderator), J.J. McCracken, Arnie Zimmerman, George Mason
---
WAITING FOR RAIN at VisArts in Rockville, Maryland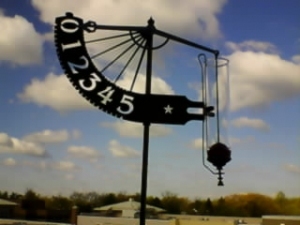 Margaret Boozer & J.J. McCracken collaborate
on an installation for FIELD WORK, an exhibition
curated by Susan Main
March-April 2012
VisArts, Rockville, MD
---
Thank you Thank you Thank you
Louis Comfort Tiffany Foundation
---